Going places
In an elite field of our own design, Vintage Electric thrives at an innovative intersection of timeless aesthetics and future modernity.
As founder Andrew Davidge accords;
"The past and future don't have to exist mutually exclusive of each other."
- Andrew Davidge, Founder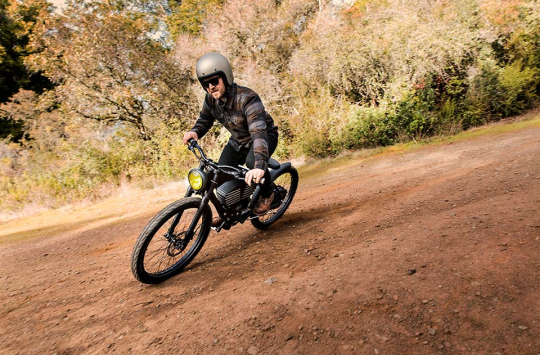 With design inspiration from vintage vehicle aesthetics and pedal-to-the-metal, future-forward technology, as realized in our electric drivetrains, we're inspired seekers constantly looking for new means to power, enliven and improve the way we ride. Transportation, we wholeheartedly believe, can be exciting, fast, fun and engender a new r/evolution.
Rumblings
Vintage Electric genesis/ground zero: take-it-apart-to-understand-it childhoods; sports-car-postered bedrooms; trips to Laguna Seca; tireless hours spent in metalshop class and bike shops; a white-hot commingling of curiosity, patience, experimentation, determination and grit.
As Global Sales Manager Eddie Johnson notes;
"Vintage Electric is all about authenticity. From the roots of our story, to the experience you can expect interacting with anyone from our team. We are a group motivated by passion for our products and our customer experiences."
- Eddie Johnson, Global Sales Manager
Back in 2013, Andrew, patiently tinkering in his parents' garage at the time, took an early iteration of a few Vintage Electric bikes to a prestigious vintage car show in Monterey. An early and lasting impression—that burgeoned into a business—was made there with these proof-of-concept bikes: vintage-inspired, battery-assisted pedal bikes with unique design, impeccable build and attention to detail could indeed excite an audience and build a fervid customer base.
As Designboom magazine notes;
"Vintage Electric bikes skillfully blend the vintage-inspired design of classic board-track racers with the best in electric vehicle technology, resulting in mobile works of art."
- Designboom Magazine


Imagination In Motion
We're moving forward at warp speed here in Santa Clara, our home base, with thoughtful deliberation about how our bikes can positively impact you and the way we all move, both now and in the future. It's an opportunity, commitment and, we like to think, responsibility that ignites our imaginations daily.